Rubber Teat Dropper Manufacturers
Product Description
Are you looking to locate Rubber teat Dropper Manufacturers with a lower price, or do you wish to know more about these components?
To get the best value, You should know more about how you can use it and what it can accomplish.
Read the entire article.
What is a Rubber teat Dropper?
Rubber Teat Dropper (or Teat) is a small and inexpensive product that is an easy-to-use item specifically designed to ease the transfer of milk into medicines. The Rubber Teat Dropper is designed to function as a small dropper. It comes in different colors. It is tough, light Rubber, and has an easy needle-nose tip. It is used to feed milk or other medicinal liquids to babies. It is squeezed for just a few seconds to release drops of milk onto the baby's lips.

Rubber Teat Dropper is constructed out of natural Rubber. It is soft and comfortable to place in your mouth by the kids. It also has the shape of a Nipple. It can make feeding more enjoyable for children. Rubber Teat Dropper could be the most soothing and easy method of feeding your infant. The baby bottle is constructed with a food-grade silicone-free material. An encasement secures it to prevent leaks and spills.
Note: If you want to buy high-quality products like this, you can contact Space Age Plastic Industries. We are the best Rubber Teat Dropper Manufacturers.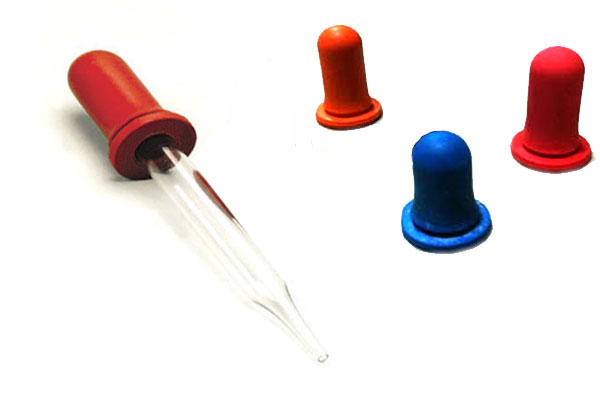 Rubber Dropper
Dropper is excellent for measuring the amount of liquid. It features a sharp tip, and it comes with an attractive storage box. It measures and distributes liquids, making them easy to use with no spills. Droppers made of Rubber are also used in measuring small quantities of liquid in your home, lab, or at work. They can ease your work by the accuracy of their measurements. The Droppers come with various capacities to decide the quantity of liquid. They also available in a scope of colors that will match your preference. They are made from a highly rigid and non-toxic rubber that won't be able to break and safe for the user and small babies.

The Dropper contains a bulb made of Rubber, which will ensure that the liquid can exist without spilling. The bulb's rubber structure has been designed to create an enveloping seal around the bottle, preventing leakage. Rubber is suitable for handling a variety of liquid-based applications. You can contact Space Age Plastic Industries for a bulk order of Rubber Droppers. We offer these droppers at a low cost. We are the best Rubber Dropper Manufacturers.
Uses of Rubber Teat Dropper
A dropper of teat made of Rubber can be a simple yet efficient lab tool. The Dropper is also durable and therefore suitable for use in everyday life. The Dropper is constructed of the durable material of Rubber that is flexible and soft. The Droppers can be utilized to disperse fluids into smaller bottles.

Droppers are an easy and economical method of dispensing liquids, powders, medicines, milk, etc. When the bulb's Rubber gets squeezed, it lets out the liquid. It's an excellent product for infants. It is also utilized for feeding animals. It helps mix several solutions. Droppers can determine the amount of liquid and can be used to measure the quantity of liquid by simply squeezing a drop at each time.
Features and Benefits of Rubber Teat Dropper
Easy to Use
Waterproof
Does Not Leak
Great for babies
Strong
Made in India
We offer a Money-back Guarantee.
The Most Excellent of the Rest is constructed from the highest quality elements. We also guarantee money back. Suppose you're not happy with the purchase. If you aren't satisfied with the quality of one of these droppers, you can send this product to the company for a full refund. This is the kind of support you're looking for and the company you'll require to help take your company to the next step.
We use top-quality materials for rubber teat droppers.
Since the beginning of time, we have used excellent and durable materials to fabricate rubber teat droppers. We still use high quality materials to manufacture our products. These droppers are constructed from tough plastic that is water-resistant and doesn't contain harmful chemicals. Hence these products are safe for the use of babies.
Applications of Rubber Teat Dropper
To name a few, you can use it to add flavor to coffee and tea, enrich fruit drinks, and add color and texture to the soup, salad, and more. It's also an excellent additive for all your baked goods, such as brownies and brownie mixes, as it'll add both sugar and natural sugar.
Why Choose the Space Age Plastic Industry?
We are the best Rubber teat Dropper Manufacturers and Suppliers in Mumbai, Maharashtra, India. We're the most effective in our field. If you're looking to buy one of these droppers, we'll sell it at the most affordable cost. We have an extensive manufacturing team with experts who create and deliver droppers. SpaceAge Industry takes great care when creating these droppers. Our team makes droppers according to their Color, size, usage, and compatibility.

These droppers are made from sturdy materials that are safe for everyone, even children. To ensure that our products are delivered in large quantities, we've added additional people to our distribution chain. You can contact the space-age plastics industry. Our responsibility is to ensure that the product arrives at the right time. Many countries worldwide offer our products, such as Indonesia, Sudan, and Nigeria. Hence our business is the top Manufacturer of Rubber Teat Dropper.
Specifications:
Durable
Used in chemical Industry.
Afforadble Price
Made Up of Plastic