PP Measuring Cup Manufacturers
Product Description
If You are looking for the affordable and best PP Measuring Cup Manufacturers, Then you are on the right website.
This article will overview how you can choose the best measuring cup for Usage.
If you run a small-sized business and have to operate on a budget, you should consider purchasing the right measuring cups.
Watch this info.
What are PP Measuring Cups?
PP measuring cups are constructed from robust and durable Plastic. They are also easy to clean. The measuring cup set is ideal for kitchens of all kinds. They are great for measuring dry ingredients and liquids and serving food items.

Sometimes these cups are also used as serving vessels because they come with handles and can easily be lifted and carried. Further, they are used to store dry items within the kitchen pantry. These Cups include one cup, one half-cup, one quarter-cup, etc. Cups are an essential Home appliance. They are used for measuring serving, as well as storing.
Note: Space Age Plastic Industries is the best PP Measuring Cups manufacturer. We sell these Measuring Cups at the lowest price. They're less expensive than you'd believe, and their quality usually is better than the ones you can purchase in the stores.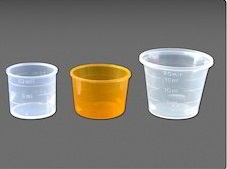 What is a measuring cup?
A measuring cup is a small cup used to measure the amount of liquid in a cup. They are made of Plastic and are an essential part of every kitchen. A measuring cup is typically made of metal, but you can also find plastic models.
What are the benefits of Measuring Cups?
Measuring cups are among some of the best kitchen appliances ever created.
They're beneficial for measuring liquids like tea, coffee, and alcohol.
These Cups Determine the volume of liquids.
It measures the presence of seeds and other elements in liquids.
The consistency is measured by the oils present in the food you cook.
These Cups are dishwasher-safe.
Measurement of liquid and dry ingredients are accurate.
Each cup is equipped with unique measuring numbers.
They are made to help you measure ingredients easily.
Uses of PP Measuring Cups?
Measuring cups are used for measuring liquid or dry elements. They are available in a range of different sizes as well as materials. Plastic cups are light and cheap, yet they break easily. These cups are crucial for measuring the thickness of the ingredients, such as salt, sugar, or butter.

They are also used for measuring ingredients with a distinct texture like cream cheese or Ghee. They're dishwasher-safe and are available in white color. These measuring cups are packed with guidelines and tips for measuring the most delicious ingredients.
Features of Measuring Cup
They usually come with indicators that show the amount of liquid inside the cup. They come in various sizes and have various characteristics, such as glass beads that improve visibility and buttons made of Plastic for greater comfort. Most measuring cups come with an insulating layer that helps keep liquids out of the way.

Many measuring cups are offered in a combination of styles and materials. They come with a handle that is square and has a square base. It is the square that's the most popular style. Another option can be the Rectangular style, with a rectangular base with handles.
The material used to make Measuring Cups
It is essential to consider the materials that make up the measuring cup. Various measuring cups are available, but Plastic's the most widely used material. Each one has an excellent accuracy level for measurement and is simple to clean. We believe measuring cups are assembled with the highest quality materials available. The durable and top-quality measuring cups are stainless steel and are not likely to crack or rust.

The tough construction and easy-to-read measures make them an ideal kitchen tool for cooks of all kinds. SapceAge plastic Industries make these PP Measuring Cups with high-quality materials. You can buy these cups without any issues. We assure the best guarantee of our products. We offer these Measuring cups at a reasonable price. Space Age Plastic Industries is the best Manufacturer of Stainless steel measuring cups and spoons in India.
Why Choose Space Age Plastic Industries?
Space Age Plastic is the best PP Measuring Cup Manufacturers and Suppliers in Mumbai, Maharashtra, India. Space Age Plastic offers inexpensive PP Measuring Cups of high quality. We ensure they are designed and figures on Cups are precise and easy to see. Space Age Plastic has excellent engineers to fulfill your needs whether you are looking for an excellent measuring cup. We have a bunch of experience assembling measuring cups.

Our skilled team can produce various cups based on customers' needs. We sell out these cups for sale in bulk quantities. It is essential to verify that the manufacturer is legitimate and to buy high-quality products. We pay a lot of attention to packaging and monitoring the delivery. Our team ensures to deliver the right products to customers on time. Hence our business is the top Manufacturer of PP Measuring Cups.
Applications
Pharmaceutical Industry.
Medical Purpose.
Features :
Durable
Bearable in High Temperature
Specifications:
| | |
| --- | --- |
| Size | 5ml [22mm] |
| 5ml | [25mm] |
| 10ml | [22mm] |
| 10ml | [25mm] |
| 10ml | [28mm] |
| 15ml | [Conical Shape] |
| 15ml | [Cylindrical Shape] |
| 30ml | [Round] |