Animal Syringe Manufacturers
Product Description
Are you searching for top-quality Animal Syringe Manufacturers, or would you like to know more about these syringes?
Don't Worry. We are the largest Manufacturer and Supplier of Animal Syringe in Indonesia.
Please continue reading for more information about Animal Syringes and their benefits.
What is an Animal Syringe? How does it work?
The Animal Syringe is a tool that allows you to administer fluids and medications to your pet. Syringes contain small tubes with sharp needles on the ends. These Syringes have a stopper and plunger, which allow fluids to flow freely. The Animal Syringe is made of durable, long-lasting plastic.

It has both ends marked with measurements to ensure exact dosage. The Animal Syringe should only be used once. It is used on all skin types of animals. It is created of rigid plastic and is easy to use. Insert the syringe and needle into the animal's skin when giving medications. To release the medication, insert the plunger into the needle.
Note: Space Age Plastic Industries offers high-quality products. We are the best-known Animal Syringe Manufacturer in Indonesia.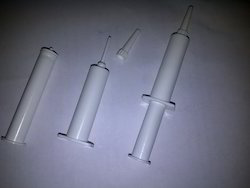 Gun Syringe for Animals
This Animal Syringe Gun is designed for animals. This tool is used to administer medications and vaccines to animals. It includes a spring and a needle. A sturdy handle allows the needle to penetrate the skin. This device is used to administer medication to pets.

The syringe has rubber grips that provide comfort and safety. It is an efficient way to give medication to pets. Syringe gun needles are long and thin. You can safely give fluids to pets without putting them in danger. To release liquids from your syringe gun, pull the trigger.
Animal Syringe Applications
Animal syringes make it possible to inject liquids safely and quickly into animals. This item is only used once. The disposable stainless steel animal syringes are available at a reasonable price. Because they are extended, thin and can penetrate deep into animals' skin.

These syringes can be used on animals, domestic and wild such as horses, sheep, cattle, and others. Syringes are simple to use. It is suitable for treating animals of any size. Sharp edges will not break or crack. The security lock stops the plunger from moving. Pet owners can use an Animal Syringe Gun to administer medication to their animals.
Why Choose Space Age Plastic Industries?
We are a leading supplier and manufacturer of Animal Syringes in Indonesia. If you are looking for high-quality Animal Syringes that will help your pet, we are the right choice. These are the most effective syringes available for animals. These syringes can be made of stainless steel or plastic. The Syringes for animals are easy to use. They are solid and durable.

When making syringes, we only use the best equipment and machines. Our team uses high-quality machines to make these syringes. Our machines produce lightweight, sturdy, and simple syringes. All of our syringes meet the customer's requirements and satisfaction. Space Age Plastic Industries offers Syringes at a lower price. Our company has more experience than any other on the market. Spaceage Plastic Industries is a leading manufacturer of animal syringes.